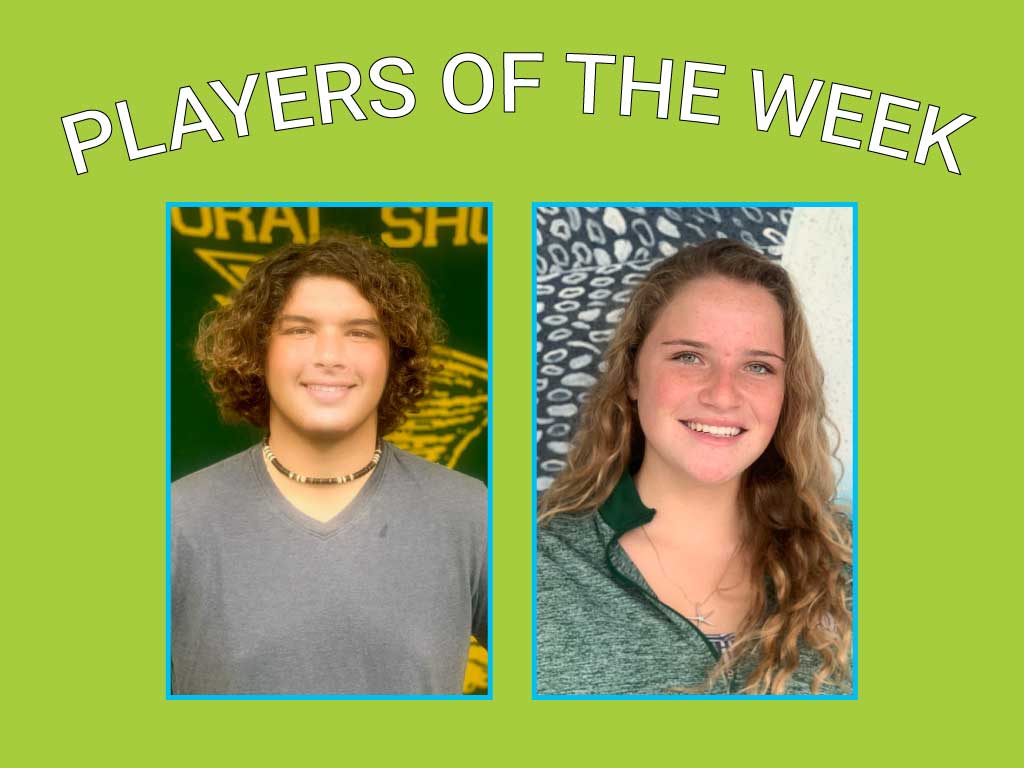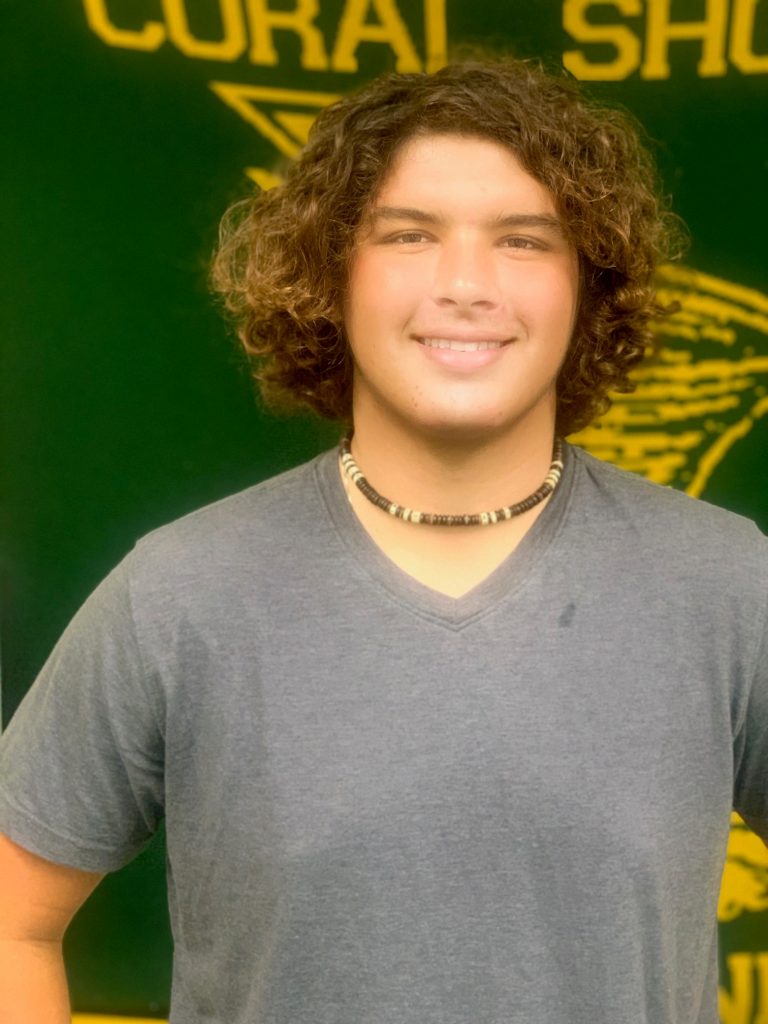 Jeronimo Reynosa-Heaton,
Coral Shores Male Athlete of the Week
(Wk of 10/7/19)
Jeronimo Reynosa-Heaton, a senior captain on the football team, is this week's selection for the The
Upper Keys' Weekly-Male Athlete of the Week. Reynoso-Heaton starred on both sides of the football in last week's 19-13 win over Marathon. He led the defensive attack with nine solo tackles, four-assists and he also blocked an extra-point. Offensively, he helped paved the way for the 'Cane ground attack from his tackle position; he was credited with multiple "pancake" blocks (knocking the defender on his back).
"Jeronimo is definitely one of our leaders" offered Hurricane Head Coach Alphonso Bryant. "He makes a huge impact on both sides of the ball; he is a physical presence." Associate Head Coach and Defensive Coordinator, Herbert James added, "Jeronimo leads by example. He makes everyone around him better. He demands a lot from himself and draws the best out of his teammates." James added, "I was talking to the Westminster Christian coaches after our game and they were raving about him (Jeronimo). They simply couldn't block him. He disrupted everything they were trying to do offensively."
Reynosa-Heaton is a three-sport standout at Coral Shores. He is a projected starter (forward/center) for the basketball team and will return to a starting role on the lacrosse team. "Jeronimo is a presence on the basketball court" said Canes' Head Basketball Coach, Jarrod Mandozzi. "He is a real force inside, an excellent defender and a guy who can control the boards. He has no idea how strong he is. It's funny to see guys just bounce off of him…and he hardly notices."
"Jeronimo is a uniquely talented athlete" commented athletic director, Rich Russell. "He has the body type of a lineman but he can throw and catch a football as well as anyone we have in school. That's a very rare combination of talent. He literally could play any position on the field for us in football."
Reynoso-Heaton is also a standout in the classroom. He possesses a 3.929 unweighted cumulative GPA and a 4.286 weighted GPA. He is a member of Coral Shores' National Honor Society.
Jeronimo has also been singled out for his work on various Upper Keys Foundation service initiatives. He was deeply involved with the UKF-Hurricane Michael Relief Mission last year and is currently working–including this weekend– on collections for Hurricane Dorian victims.
Riley Dobson, a junior star on the Coral Shores volleyball team, is this week's Upper Keys Weekly-Female Athlete of the Week.  Dobson is a three-sport standout at Coral Shores.  She is an outstanding Power Forward on the basketball team who has the ability to take over a game, and she also advanced to "states" in two different track events last year.
Dobson has affectionately been dubbed "the beast" because of her powerful, physical play.  "I have seen players duck from her hits and even get knocked down by them" said Hurricane Volleyball Head Coach, Kathy Ets-Hokin.  She added, "Riley is very flexible; she can play in many positions and hit any set. She reads the other team well and knows when to serve hard, soft or use a floater. She also reads the blocks and puts up a tip if they double block her."
Ets-Hokin also called Dobson a "great teammate"!  She is full of smiles, laughs, jokes, and has this positive vibe that flows through her. She never complains about getting pulled out.  Instead she cheers on the girl who is going in for her. This girl has a heart of gold. Riley sets a great example to the younger players and they really look up to her. She is a player that all coaches dream about having on their team.  She is athletic, responsible, dependable, and a leader."
CSHS Athletic Director Rich Russell added, "Riley is a tremendous athlete but an even better person. She is absolutely beloved by students and staff alike.  She's affable, has an ever present smile, and despite all her successes, she is genuinely unpretentious and unassuming."
Dobson was also praised for her work on various Upper Keys Foundation Missions and for her commitment to Special Olympics.  "Riley has a wonderful heart" said Russell. "She genuinely enjoys serving in the community and has developed a passion for Special Olympics in particular.  She's just a very special young lady."
Riley has also made a name for herself in video-production.  Her projects, highlighted by her "Back to School" video series, have received very favorably, widespread approval.  "Riley has the talent and drive to be very successful professionally, in the field of video production" assessed CSHS Video Production instructor, Michele Thiery.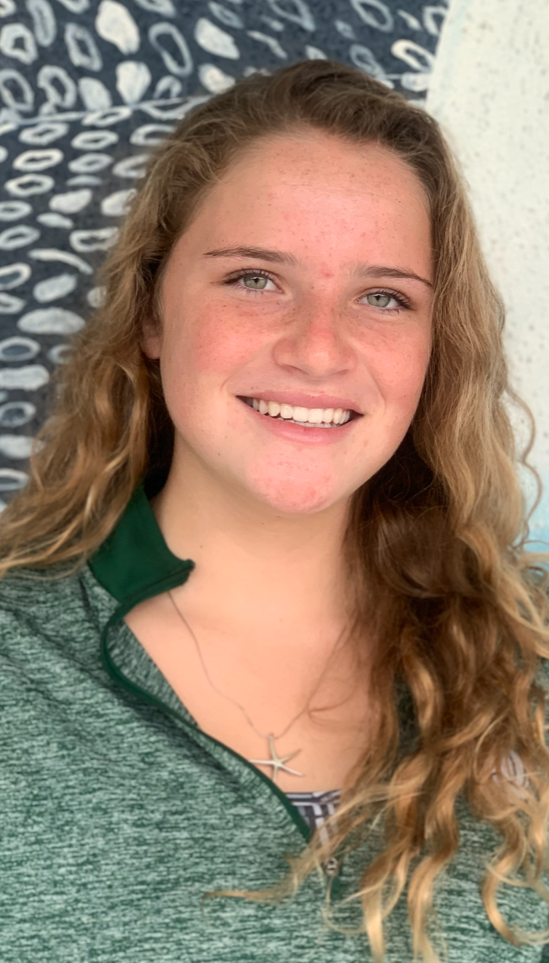 Riley Dobson,
Coral Shores Female Athlete of the Week
(Wk of 10/7/19)