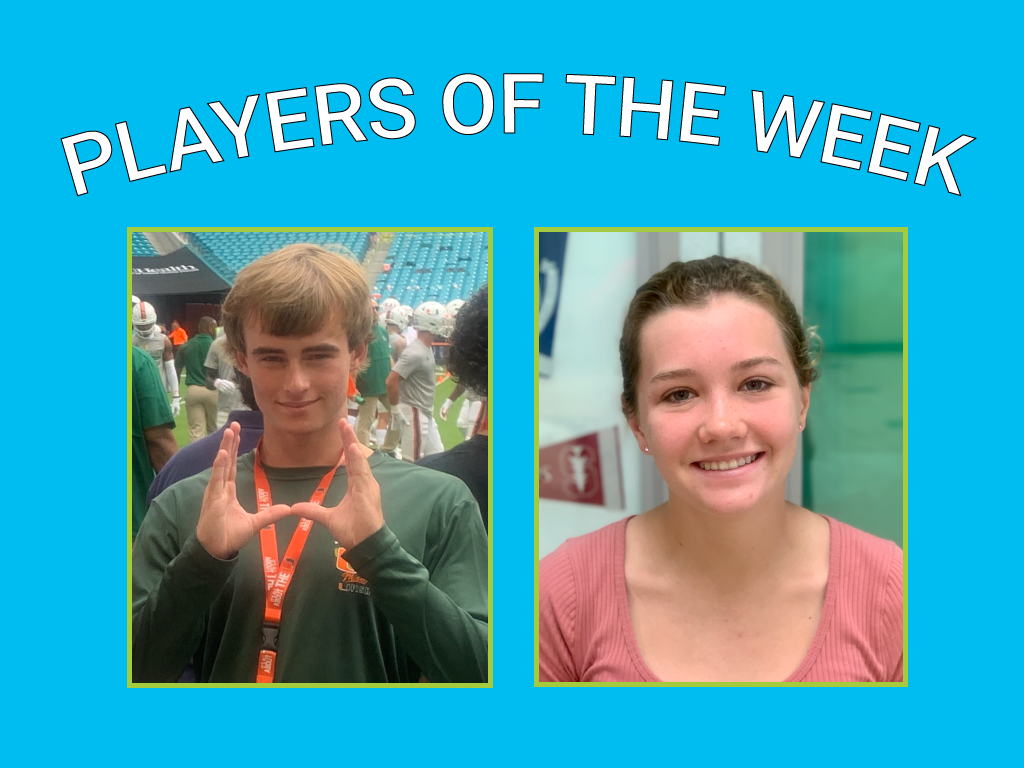 Corley Smith, a freshman who has made a profound impact on the Coral Shores swim team, is this week's Upper Keys Weekly–Female Athlete of the Week.  Corley specializes in the 200M and 500M freestyle events.  She also is a strong contributor on the team's 200M and 400M relay teams.
Smith's 2:04 in the 200M free and her 5:29 in the 500M free are easily the top times in the county for both female AND male swimmers.  In recent county competition, Corley bested the top female by 29 seconds and the top male by nine seconds in the 200M freestyle. Even more remarkably, her 500M time was one-minute and 24 seconds faster than the second place female finisher and 37 seconds better than the top male swimming in the same event.  
Corley has been swimming since she was seven years old.  Her trainer then, as now, is Coral Shores' head coach and four-time Olympic gold medalist, Jon Olsen.  "I can't say enough about Corley" commented Olsen.  "She comes in at 6:00 AM three days a week to practice before school and then swims five afternoons a week as well. She will be a force in our district and beyond for the next four years."
Under Olsen's tutelage, Smith has been swimming in Junior Olympic events around the state since 2015.  "She has already made a name for herself through Junior Olympics" added Olsen. "She's an outstanding swimmer and an even better young lady."
Associate Head Swim Coach, Kelly Kater offered similar "raves" about Corley's swimming preparation and performances and also pointed out her model work with The Upper Keys Foundation's community service.  "Our 42 swimmers provided some much needed assistance with the Lighthouse Swim event in September" said Kater.  "Corley was typical Corley; the first to show up and the last to leave.  She was ever present and ever ready to provide assistance wherever it was needed.  She's a very special young lady."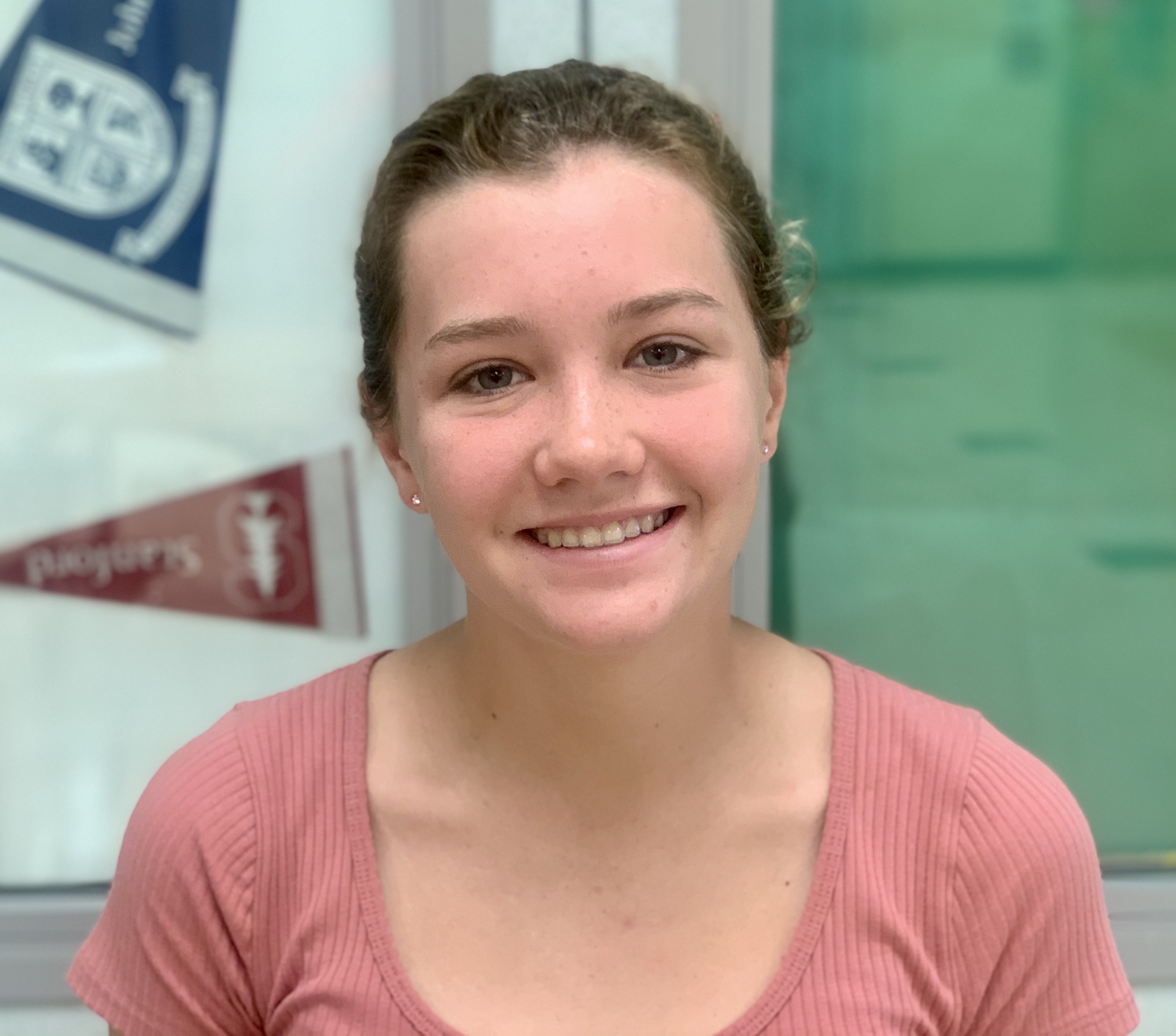 Corley Smith,
Coral Shores Female Athlete of the Week
(Wk of 10/21/19)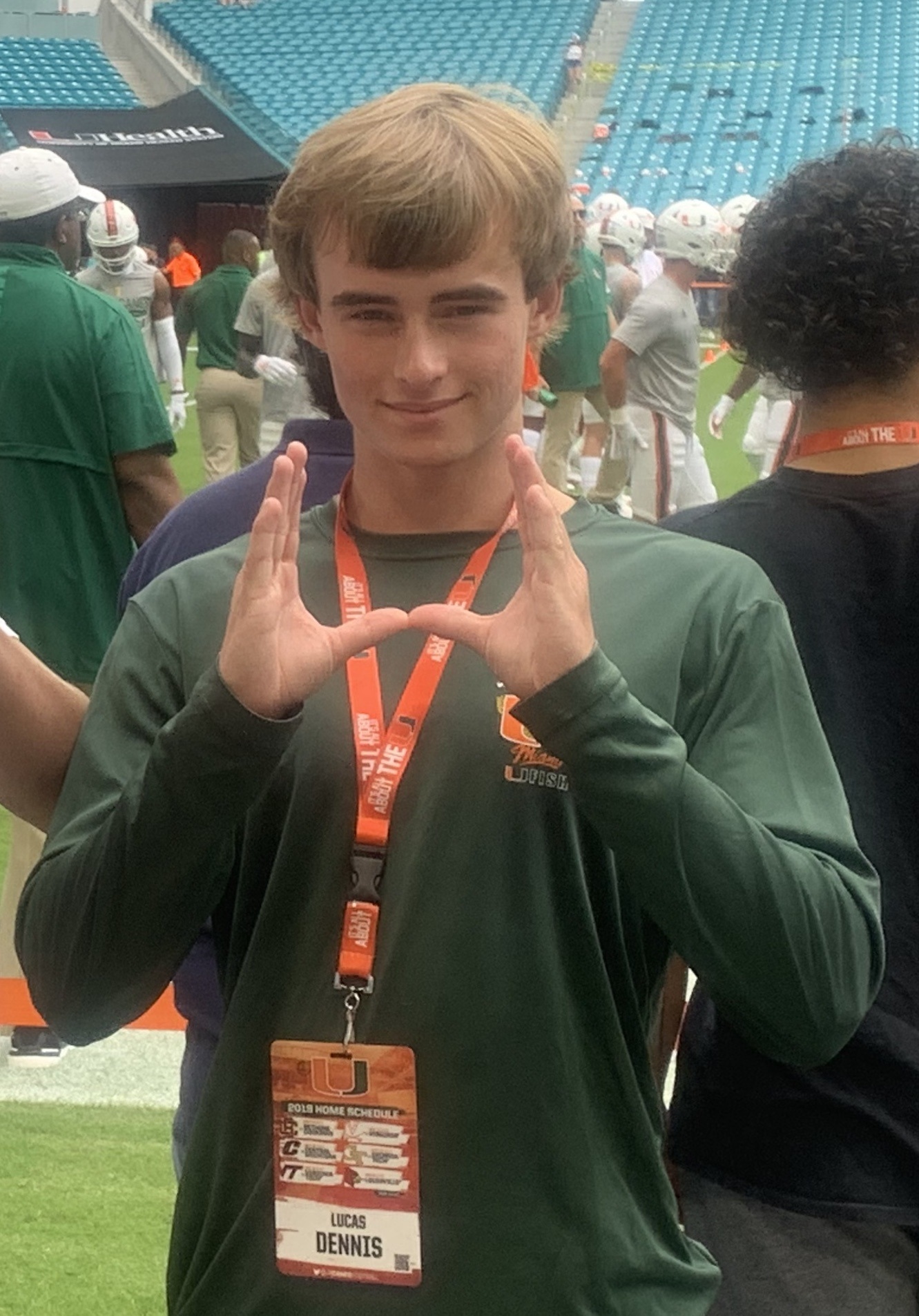 Lucas Dennis,
Coral Shores Male Athlete of the Week
(Wk of 10/21/19)
Lucas Dennis, a junior standout on both the Coral Shores football and weightlifting teams, is this week's Upper Keys Weekly, Male Athlete of the Week.  Dennis was singled out for "getting the team off on the right foot" as he turned the first two Coral Shores possessions into touchdowns in the Canes 54-6 win over Palm Glades last Friday night (October 18).  Dennis, who was used sparingly after his initial impact, finished the night with 5 carries for 98 yards including the TD runs of eight and 47 yards. Lucas also contributed greatly on the defensive side of the ball from in his strong-safety assignment.  
"Lucas is a gifted runner," commented Canes Head Coach, Alphonso Bryant.  "He has the balance, and vision you look for in a running back.  He also can and will plant his foot and accelerate into the hole.  Beyond that, he's a tough young man who doesn't shy away from contact" added Bryant.
Defensive Co-Coordinator and Associate Head Coach, Herbert James, shared similar praise about Lucas on defense.  "Lucas has a keen understanding of his responsibilities.  His speed, quickness, and toughness separate him from most high school players."  James, who won three National Championships as a cornerback at the University of Miami assessed, "Lucas has the potential to excel at the next level.  He just needs to add some weight and hone his skills. He already possesses enough talent, heart, and physical toughness to play in college."
In addition to his football prowess, Lucas advanced to regionals in Coral Shores' inaugural FHSAA Boys-Weightlifting season, last spring.  Lucas, who was 145-pounds at the time, bench-pressed 220 pounds in route to his state advancement.
Lucas was also singled out for his time and commitment to The Upper Keys Foundation's, Hurricane Dorian's Relief Mission.  "Lucas contributed a ton of time to our collections" said James.  "He has consistently been a leader in our UKF initiatives in his years with us.  He's does a great job of representing Coral Shores!"