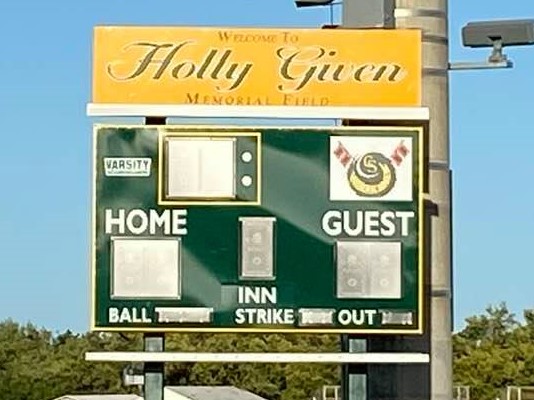 Yesterday, we had the opportunity to honor our beloved friend, Holly Given, by retiring her #4 jersey (effective after this season) and by dedicating the Coral Shores' softball field in her name. It was wonderful to have many of her family members take part in the service including, Lucy Doyle Given (mom), Jack Given (brother), Liz Waller (grandmother), and John Doyle (uncle). Mega thanks to all who attended! 
I was particularly proud to have Coach Lesa Bonee and her entire softball team participate in the dedication. Also in attendance was our complete baseball teams and staffs, and our lacrosse teams and their coaches. 
We all need to extend our appreciation to Superintendent Mark Porter, and the entire Monroe County School board for supporting the "naming rights" initiative. The list of luminaries participating in the celebration included: School Board Vice-Chair, John Dick; MCSB Executive Director of Assessment and Accountability, Dr. David Murphy; Coral Shores Principal, Blake Fry; CSHS Asst. Principal, Kristy Bedell; Plantation Key School Principal, Lisa Taylor; and Holly's softball coaching staff, Paul Grewe, Mike Young, and Tracy Dobson.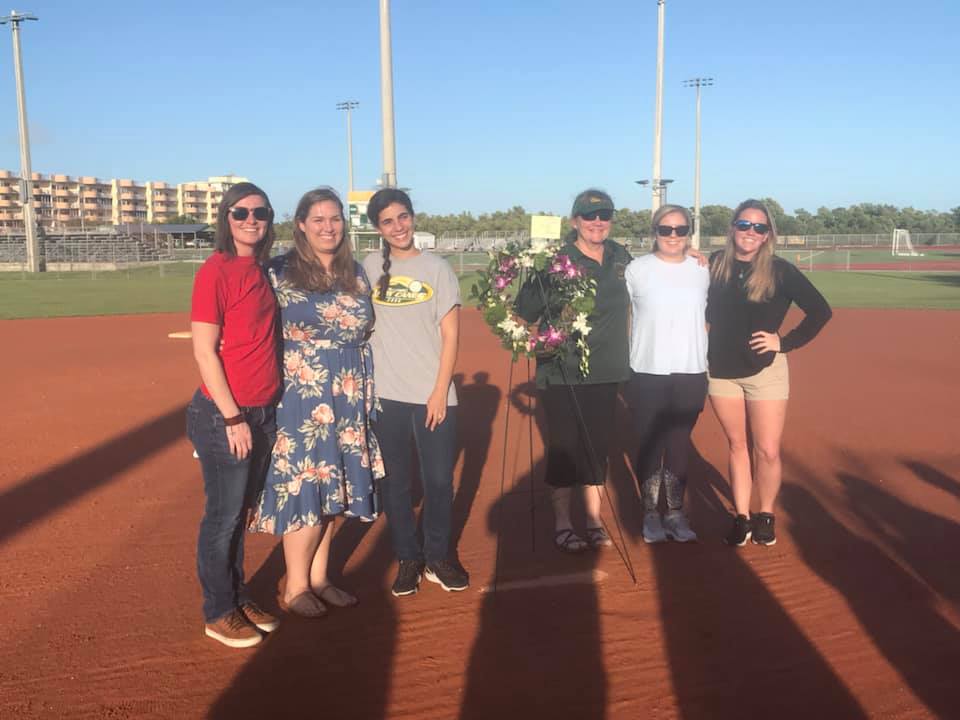 Coach Bonee, and five senior leaders from her defending conference championship team (Lexy Brito, Jena Jones, Shelby Walker, Emma Lovell, and Amaya Dostaler) joined Paul and Mike in presenting Holly's jersey –in a decorative "shadow box"–to Lucy and family. 
Paul and Mike addressed the crowd, referencing Holly's unequaled passion for the game, her endearing personality, and her record, four consecutive MVP Awards (softball)…..a distinction that separates her from all other Coral Shores athletes. Coach Bonee spoke of how honored she, and her team are, to use Holly as a softball role-model adding, "Our goal as a team, will be to live up to the standards established by Holly."
Another of yesterday's MANY touching moments was the reuniting of Holly's coaches with members of her/their softball "family." Former teammates who shared in the ceremony included, Michelle Sexton, Shelby (Gentes) Price, Lauren Sanchez, Stephanie Lietaert, and Cortney Molnar. The 2008 softball team helped adorn the service with an honorary wreath that was placed at home plate.
(L-R Former CSHS Baseball Coaches: Mike Young, Tracy Dobson, and Paul Grewe)