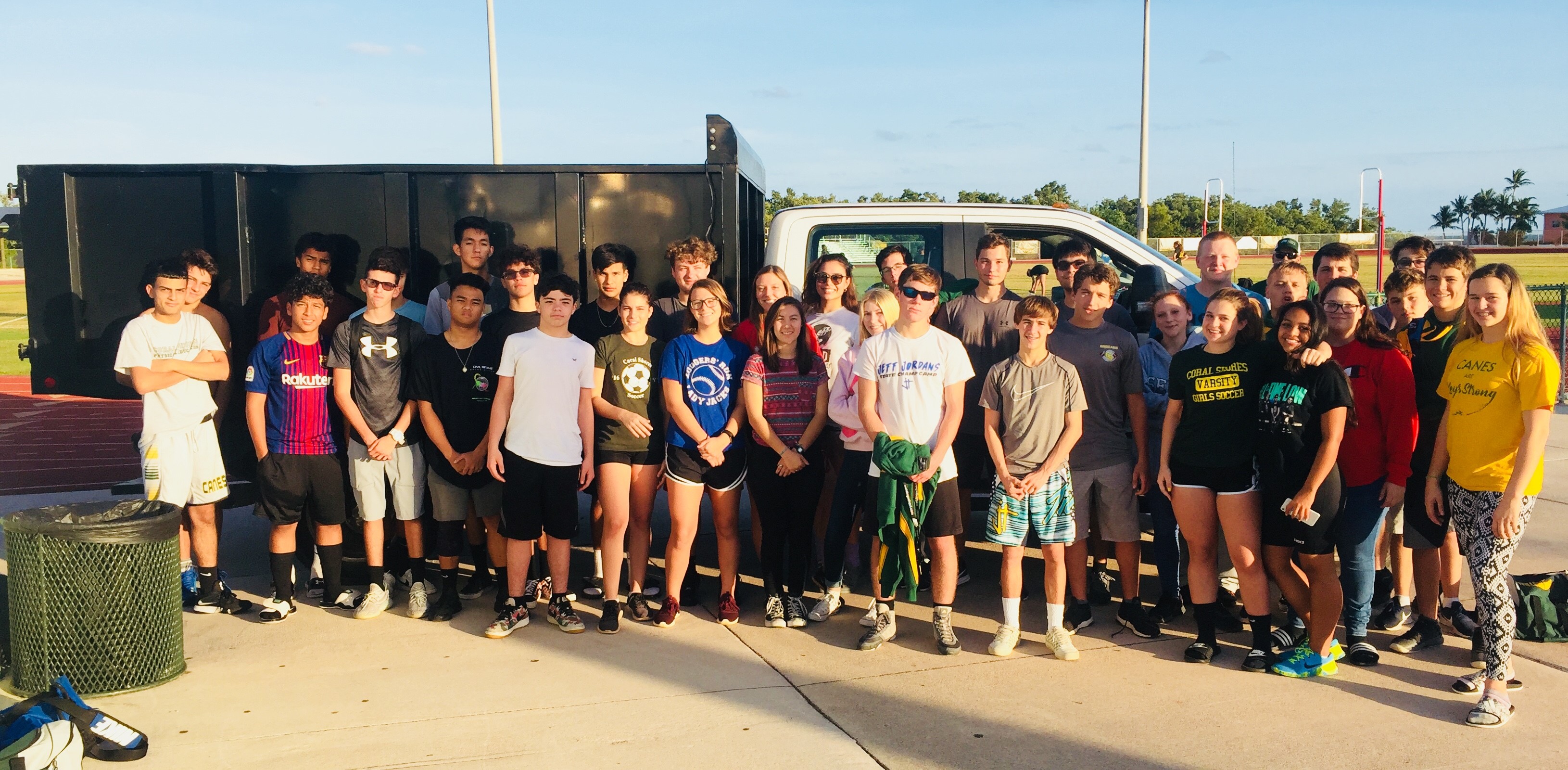 Nine different Coral Shores winter athletic teams –totaling 142 members—participated in 18 days of collections for the Upper Keys Foundation and CSHS Athletic Departments: Hurricane Michael Relief Mission.  Members from three different team assisted to fill a delivery truck provided by Jeff Gautier and his Plantation Keys Tree and Nursery company.  Additionally, a check for $4,954 was written to the adopted organization, the Bay United Volleyball program of Panama City.  Bay United works with about 100 athletes.  Karisa Wesley, who works as a coach and councilor for Bay United estimated that between 80 and 85 of her players "are still displaced from their homes."
CSHS Head Volleyball Coach, Kathy Ets-Hokin helped to spearhead the mission.  "This started out as something our girls volleyball team was going to try to do" offered Ets-Hokin.  "The Upper Keys Foundation thought it was a great mission and worked with Rich (CSHS AD: Rich Russell) to involve all of the in-season athletic programs.  I talked to Coach Wesley over the weekend.  They were overwhelmed by our athletes efforts and our community's heart."
"This is really what the Upper Keys Foundation –and their 'Serve to Play' program–is all about and it's what we want to instill in each of our student-athletes" said Rich Russell.  "We want to teach each of our athletes to be in tune to folks with genuine needs, and we want to teach them to step-up and make a difference where possible.   Our kids do many things in their athletic endeavors that bring pride to our school and community.  That said, I think this is our greatest source of pride.  It's very gratifying to hear them talk about the enjoyment they get from helping.  I'd like to think we are training the next Girls Scout leaders, the next Little League coaches, the next Rotarians etc."
Russell added, "We have great empathy for the folks in the Panhandle.  A year ago our kids were helping their own families and our own community.  We also had a chance to send some of our athletes –and write a check–to our friends in Marathon.  Our kids have seen the effects of hurricanes first hand and they understand the associated needs."
Karisa Wesley offered,  "We were overwhelmed with the outpouring of love and support from a school we'd never even heard from (Coral Shores).  Kathy and Rich have been in constant dialog with us and asked about specific needs….all of which were addressed."  Wesley went on to say, "One of the neatest things that came from this was our girls –85% of them displaced from their homes—decided to take a portion of the money donated, and buy Christmas presents for younger kids in the area who are even worse off than them.  We gave each of them a set amount of money and we all spent an afternoon shopping at Target.  I've never seen our girls happier."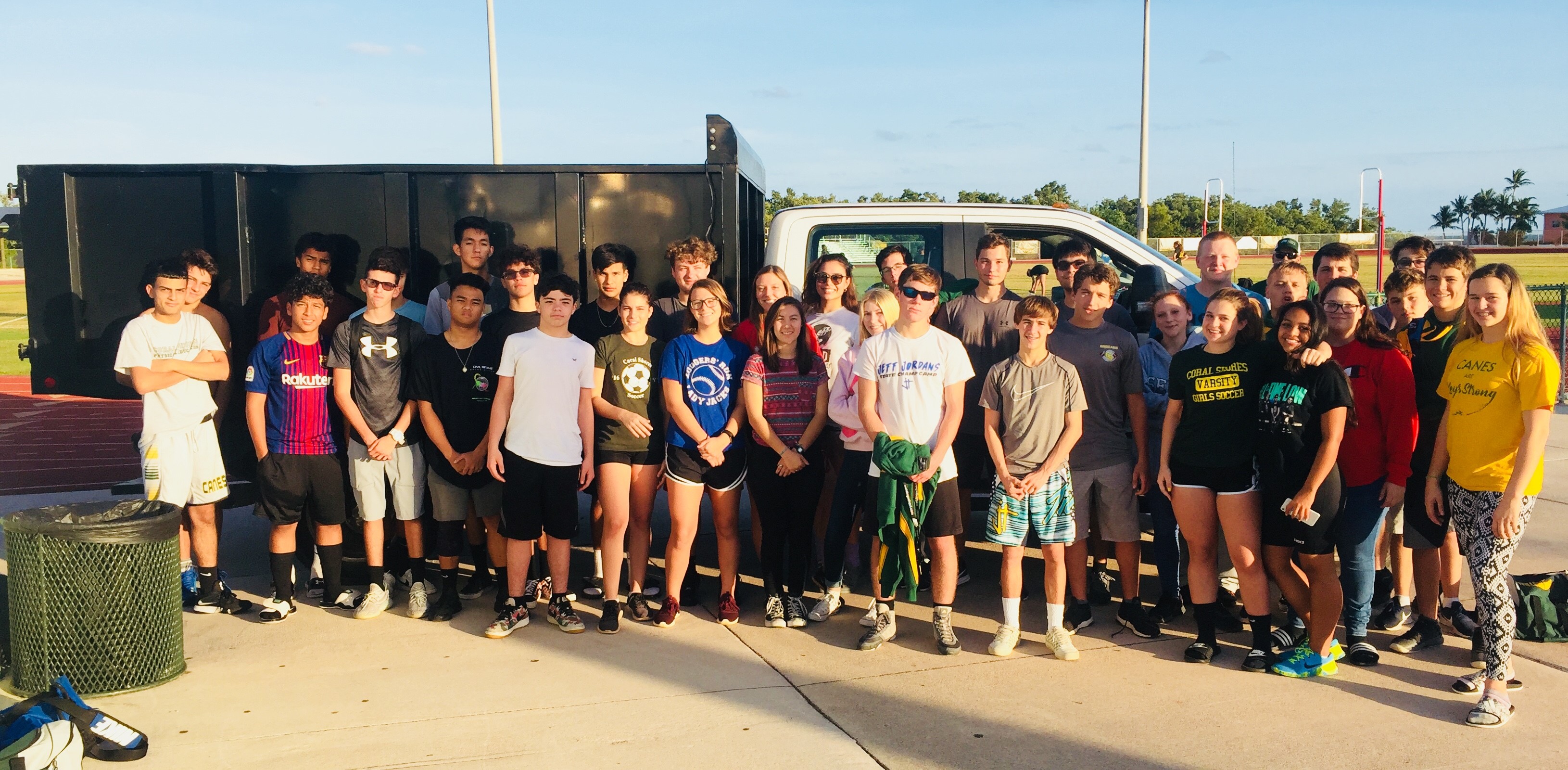 Above: Members of the girls weightlifting, JV boys basketball and wrestling teams assisted to load a supply truck.  Jeff Gautier, owner of Plantation Key Tree and Nursery, provided a truck and driver to transport collections to Panama City and the UKF-CSHS adopted group, Bay United Volleyball program.  The truck was overflowing with supplies.  After filling the back bed, supplies were stuffed in the back seats and passenger seat of the truck.
Above: CSHS athletes from three different teams assist in packing  truck for delivery to Panama City.  Athletes from all nine winter sports programs at Coral Shores –a total of 142 participants—were involved in the UKF-CSHS Athletic Dept: Hurricane Michael Relief Mission.
Above: CSHS three-sport standout, Emma Lovell –along with other CSHS athletes—presents a check for $4,954 to be used for Hurricane Michael related needs in the Panhandle.