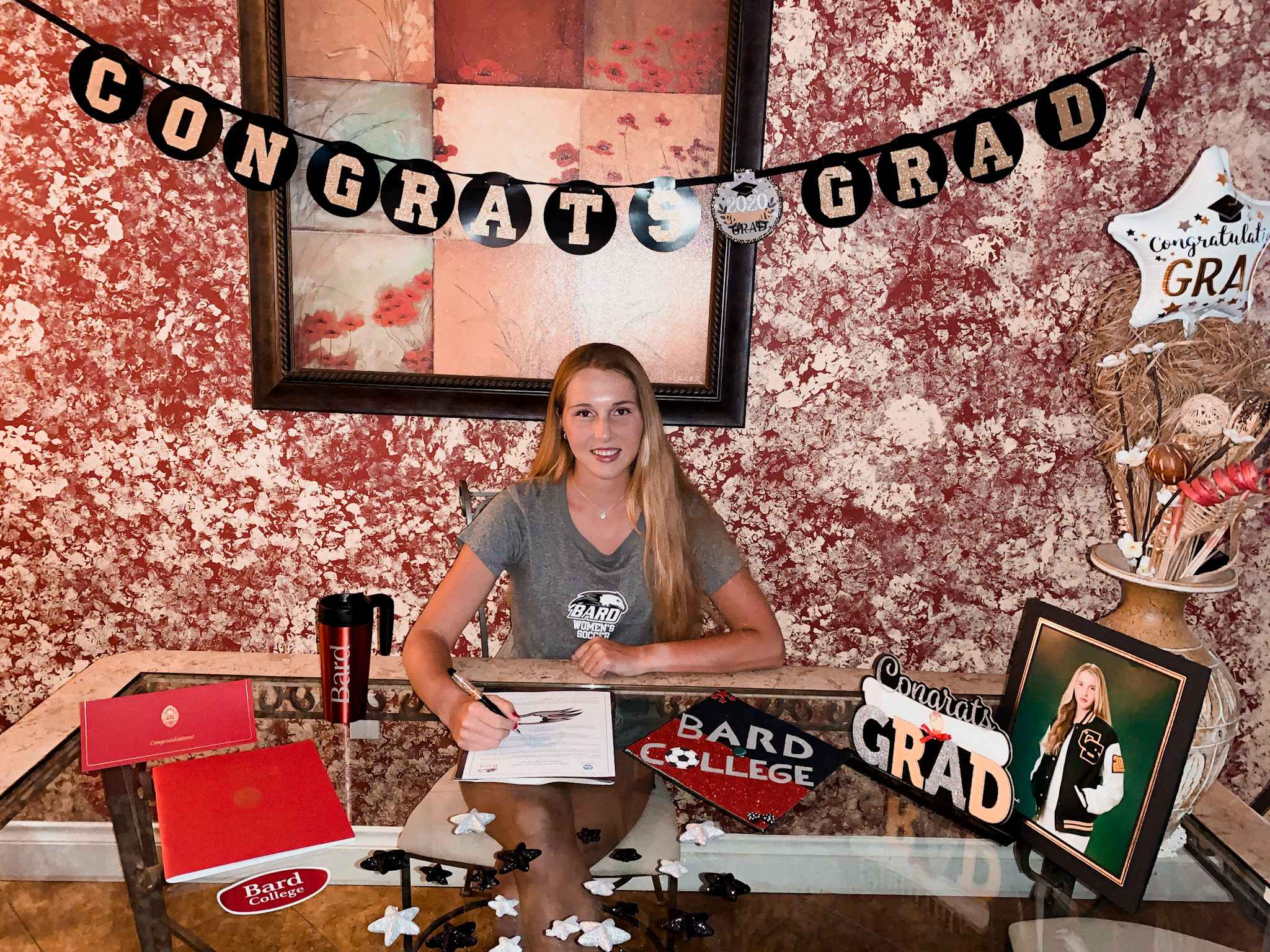 Coral Shores Star Goalie Madeline Chilton Signs Soccer Scholarship with Bard College
Madeline Chilton, the Monroe County Female Soccer Player of the Year, has chosen Bard College in New York to continue her education and playing career.  Chilton began playing organized soccer at age four.  She matriculated through the Florida Keys Soccer Club before joining the Cutler Ridge Soccer program.  The three-time All-County goalie, Chilton has been training with the International Goalkeeper Training Club each of the past three years. She has been a fixture in goal for Coral Shores since her freshman season.
Bard College is a private liberal arts college in Annandale-on-Hudson, New York. The campus overlooks the Hudson River and Catskill Mountains, and is within the Hudson River Historic District, a National Historic Landmark.
"My experiences at Coral Shores have taught how to work well as a team and grown my leadership skills and goalie skills through all the great practice I got during games. I'd like to thank Giuseppe Weller for providing me with such hard training that has prepared me for the great challenges ahead and being so supportive through my whole journey."—Madeline Chilton 

"I'd like to thank Coach (Pat) Fazio for helping me so much for so many years in Club and high school and finally I'd like to thank my parents for being my biggest supporters and ALWAYS having my back no matter what, through everything, I definitely could not have done any of this without them."—Madeline Chilton

"I chose Bard College because of the amazing team-family feeling I got when I met the team and the campus is absolutely gorgeous." —Madeline Chilton

"And I'm extremely excited to play soccer in college, it has always been my dream and now I get to do it in New York, one of my favorite states"—Madeline Chilton


"We are so proud of Madeline and all the hard work she has done. And we are so happy her dedication and perseverance have finally paid off. We love her so much and can't wait to see what else she can achieve"—Sabine Chilton (mother)

"Madeline's talent, dedication, and character are going to make a huge difference for our program going forward! Can't wait to get started!"—William Kelly-Head Coach Bard College-Women's Soccer

"Madeline is a very focused and hardworking player who is always working on improving her skills. She's a fantastic player!  She's admired by all of her teammates."—Pat Fazio-CSHS Head Soccer Coach Soccer Coach