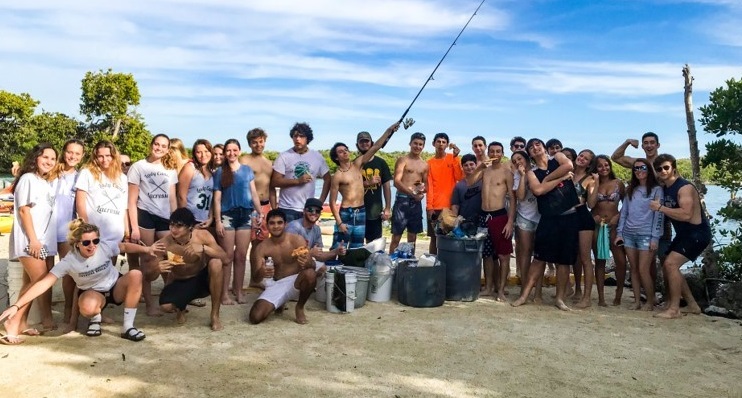 More than 30 members of the Coral Shores boys and girls lacrosse teams joined forces on Friday (2-15-19) to take part in another Upper Keys Foundation Ecological Clean-Up Project; Friday's targeted area was in and along the mangrove shorelines of Tavernier Creek.  Coral Shores athletes have been involved in numerous, beach, mangrove and highway clean-ups as part of their UKF service component.
The UKF is a non-profit organization whose mission includes helping to underwrite athletic needs at Coral Shores High School.  In turn the benefitting athletes and coaches donate thousands of hours of athletic-community service to individuals and groups with genuine needs.  UKF and the athlete department have also been active in helping with ecological challenges that are present in the Upper Keys.
"From a coaches perspective, it's what we love to do.  We want them to be dedicated, passionate, disciplined on the field and we also want to teach them love and respect for the people and resources that makeup our community.   I feel it is extremely important to keep this wonderful group of kids involved in a fun and helpful way. We aren't just teaching the game of lacrosse; we are teaching them life-skills that will aid them throughout their lives"—Head Girls Lacrosse Coach Dominique Colarusso.
"We are always happy to bring the team and community together.  Our kids love making a difference whether it's on an ecological mission like this one, or helping individuals who have significant needs.  Over the years, we've been honored to work at the convalescent center and some food pantries.  Our kids now better understand some the challenges their fellow Upper Keys citizens face on a daily basis"—Asst. Boys Lacrosse Coach Jonathan Lindback.
"We are incredibly indebted to the UKF for all of their financial assistance to our athletic department; we couldn't do what we do without them.  That said, I think their greatest impact comes from the second half of their mission which is promoting the tutoring/training on our young people in community service.  Our kids realize and embrace the fact that they have the ability to make a difference in other people's lives; that they can make a difference in the preservation and restoration of our precious resources.  And they understand that when you "give away a blessings, a blessing comes back to you."  We are fond of saying that we are training the next generation of public servants"—Coral Shores Athletic Director Rich Russell
This event as a whole was just another example of how great our community is.  It was so amazing the way that all of the local businesses were more than happy to help in any way possible. The entire cleanup was planned and organized within a week, which would have not been possible without such a helpful community. With only a few days of notice, Scott at Paddle The Florida Keys (located on Tavernier Creek) was happy to help and was able to gather 20+ kayaks and 10 paddleboards for our student-athletes to use. The CSHS Girl's Lacrosse Head Coach, Dominique, had a great idea to stay with the environmentally friendly mindset and use 5-gallon buckets instead of plastic trash bags. On the day of the event, we were able to get more than 20 buckets donated from the Yellow Bait House, thanks to the help of Tommy and Matt. Another huge thanks goes to Sandra and Betina at Bayside Bistro and Island Key Largo Pizzeria, who were able to donate enough pizzas to feed the 31 student-athletes who took part in this cleanup. We were also pleased with Brian, Jerry, and the friendly staff at Atlantic Trash & Transfer for allowing us dispose of a truck bed full of trash at no cost.
With only an hour and a half to spare between the end of school and the beginning of Friday's practice, the student-athletes of the Boy's and Girl's Lacrosse teams at Coral Shores were able to fill close to 20 of the 5-gallon buckets with plastic bags, bottles, cans, and other trash pulled from the mangroves lining Tavernier Creek.
"With our lacrosse season just getting started, I really wanted to focus on doing a cleanup event that allowed our student-athletes to bond with each other while doing something good for the community. I would say we almost had too much fun, and made a huge difference while doing so. I cannot thank the local businesses enough for making this happen with such short notice, and was very happy to see such a great turnout." -Jonathon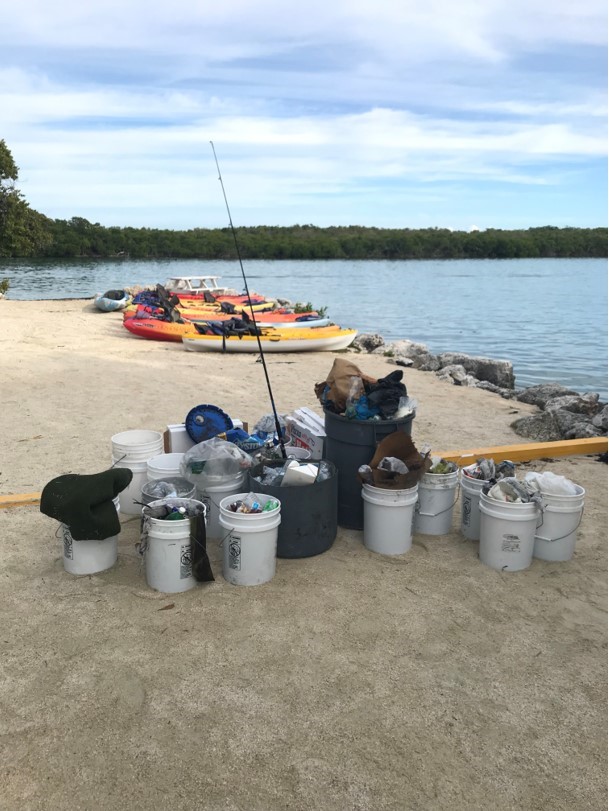 Donors:
Paddle The Florida Keys – approx. 20 kayaks and 10 paddleboards donated
Thanks to : Scott(owner), Devin, and Lacie

Address : 90773 Old Hwy, Tavernier, FL 33070

Phone Number : (305) 434-5930
The Yellow Bait House – 22 buckets donated
Thanks to : Tommy, Rick(owner), Matt, and Cameron

Address : 101741 Overseas Hwy, Key Largo, FL 33037

Phone Number : (305) 451-0921
Island Key Largo Pizzeria and Sports Bar – 5 large pizzas donated
Thanks to : Sandra(owner), Betina, and JP

Address : 101417 Overseas Hwy, Key Largo, FL 33037

Phone Number : (305) 451-8008
Atlantic Trash and Transfer – allowed us to dump all of the trash at no cost
Thanks to : Brian(owner), Jerry, Ann, and Lexy

Address : 300 Atlantic Dr, Key Largo, FL 33037

Phone Number: (305) 451-2900