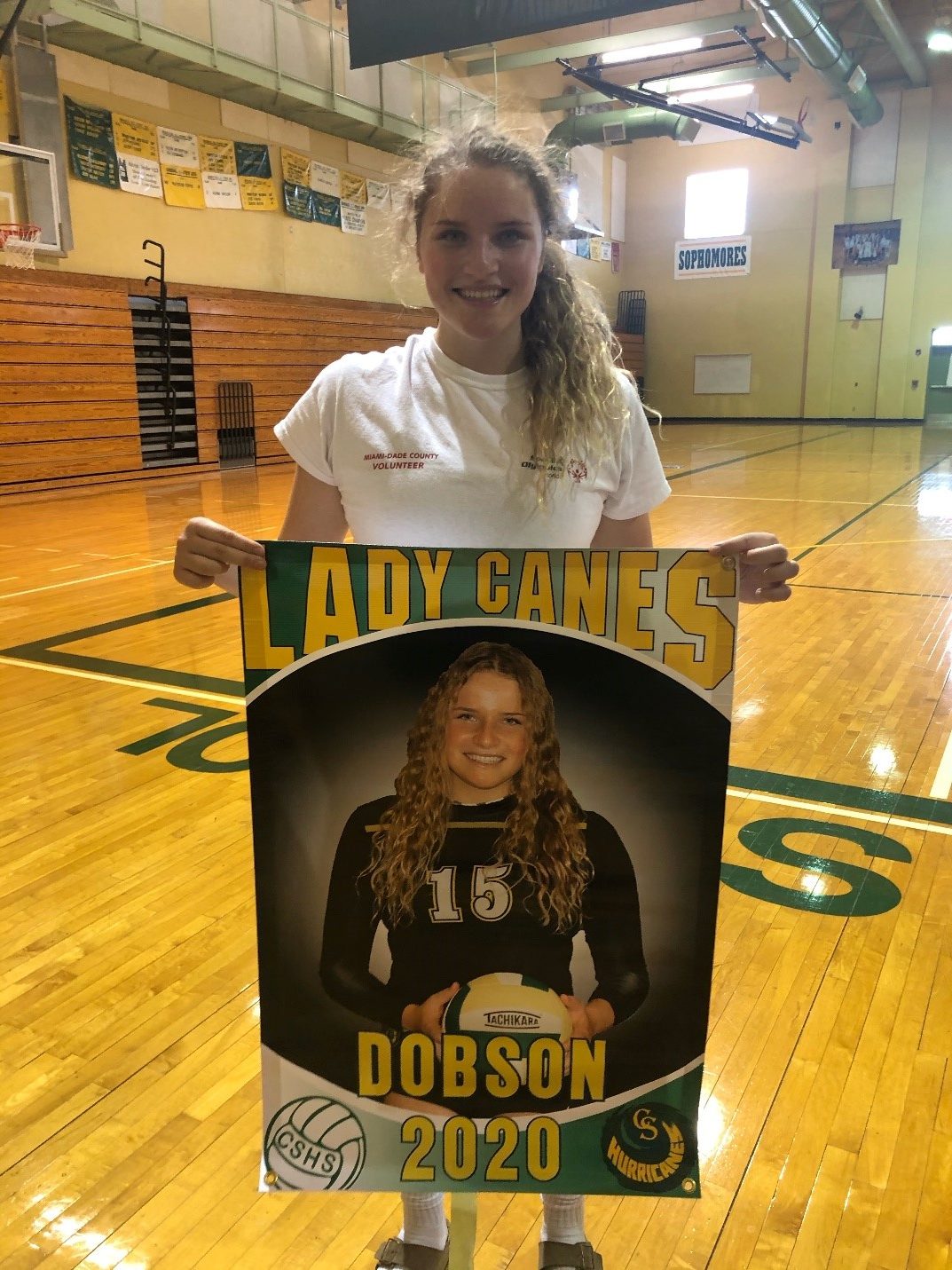 Riley Dobson was named Monroe County Player of the Year for Volleyball in a poll conducted by area coaches and the Key West Citizen. Dobson had previously been selected All-County as a freshman, sophomore and junior.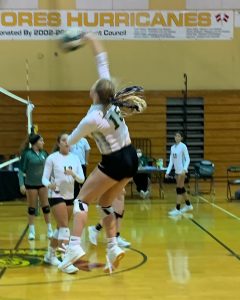 Riley began playing volleyball as a fifth grader at Key Largo School with Coach Tiffany Wheaton-Zepeda and was quickly identified as a natural, energetic athlete with a strong serve.  She went to a few summer camps with future Coach Kathy Ets-Hokin from Coral Shores, played with Coach Sam Ovalle a few years with the Upper Keys Volleyball Club, and later joined Miami Elite Volleyball Club where she has played for two years.  Assistant Coach Debi Johnson offers insight into Riley as a volleyball player by saying, "Riley is one of the reasons I love to coach.  She is fun, always smiling, and has the ability to introduce her sense of humor at just the right time to de-escalate her team's stress level.  Riley has so much power, and between her sophomore and junior year, she learned to harness that power and added some finesse making her a very smart hitter.  When Riley has fully honed her skills, she will be unstoppable.  Any team who acquires her, will not be disappointed.  Riley is an amazing player and person.  I feel blessed to have her in my life."
Riley has been a four-sport athlete throughout her time at Coral Shores playing volleyball in the fall and throughout the year in club, basketball in the winter, and breaking school records in shot put in Track in the spring while also playing soccer with the Special Olympics.  Athletic Director Richard Russell explained, "Riley is one of the best all-around athletes we've ever had at Coral Shores.  Beyond that, she's just a treat to have in our programs and our school.  She has an infectious upbeat approach with all her involvements and has a 'servant's heart' when it comes to helping others.  She's a special young lady."  
Riley has been voraciously involved with numerous Upper Keys Foundation service projects throughout her four years.  Most notably she has helped spearhead three UKF Hurricane Relief missions and has worked 6-8 hours –on both Saturday and Sunday– for the Nautical Flea Market each of the past five years.  She is also deeply involved with Special Olympics swimming in the Upper Keys.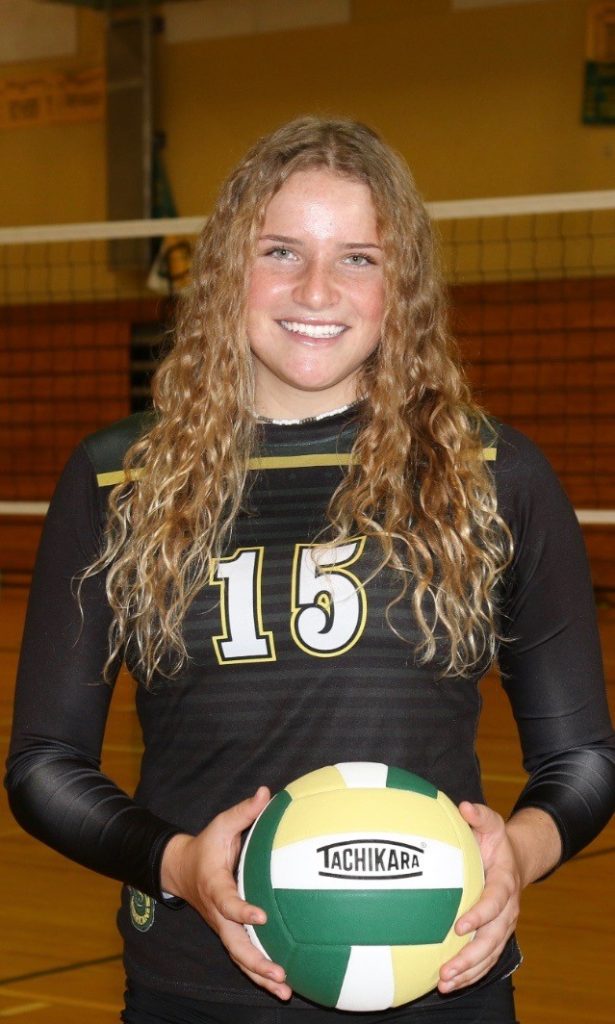 Varsity Volleyball Coach Kathy Ets-Hokin explains, "Riley Dobson is an elite athlete who transitions from sport to sport throughout the year. What makes her an elite player is her ability to excel in any sport she plays with ease and dominates in her position. She is able to switch positions at a moment's notice and is never flustered. She just smiles and says, "Ok coach." She is being the best player for the team and always has… that is what makes her such a great athlete. I have watched Riley play sports since she was 4 years old. She loves the drive of the game and competition. This is what makes her get better, she wants high competition and to be pushed or challenged. 
Riley is a physically strong player with a very positive outlook on the game from working in her off-season and training on her own. Riley is just naturally athletic and can adapt to anything. She takes in all the advice given to her and uses it to her advantage and it has paid off. I believe student athletes should play multiple sports so that they don't burn out from just playing one sport all year long. (year after year). It broadens their skills and mindset. 
Riley is full of life, laughter and energy. She loves to win but is also a player who learns from a loss. She has learned how to adapt on the court to get out of a rut or sideout. Riley has improved tenfold in the past two years in Volleyball- it is just incredible to watch a player grow so fast and do so well. She drew a crowd to every game because she was just that exciting to watch. I wish her the best and hope to see her play at the next level. "
Basketball coach Pat Meyers adds, "Riley is an incredible athlete and truly is a true leader on the court.  She has something you can't teach and that is heart and desire.  Riley will never give up on a play and always plays the game like it should be played."  
Riley is being courted by a few schools in state and out and she's leaning toward a Division 1 Junior College so she can hone her talent and improve to transfer to a D1 University.  She is interested in continuing to create videos to make people laugh and she would also love to major in Mass Communications or Special Education and continue to work with Special Olympics, eventually teach, and coach.  She has maintained a 3.0 grade point average and has been a Varsity starter in every sport she has played since freshman year.  She's energetic and positive and keeps everyone smiling.  She has been a member of the Honors Video Productions class for four years and Leadership for three, Student Council for three years in class officer roles of Secretary and Vice President as well as creator and dictator of the Meme Club.  She loves to travel and enjoys spending time with her Maine Coon cat Cinnamon.   Riley is proud to have been named Monroe County Player of the Year for Volleyball and plans to continue playing throughout college.