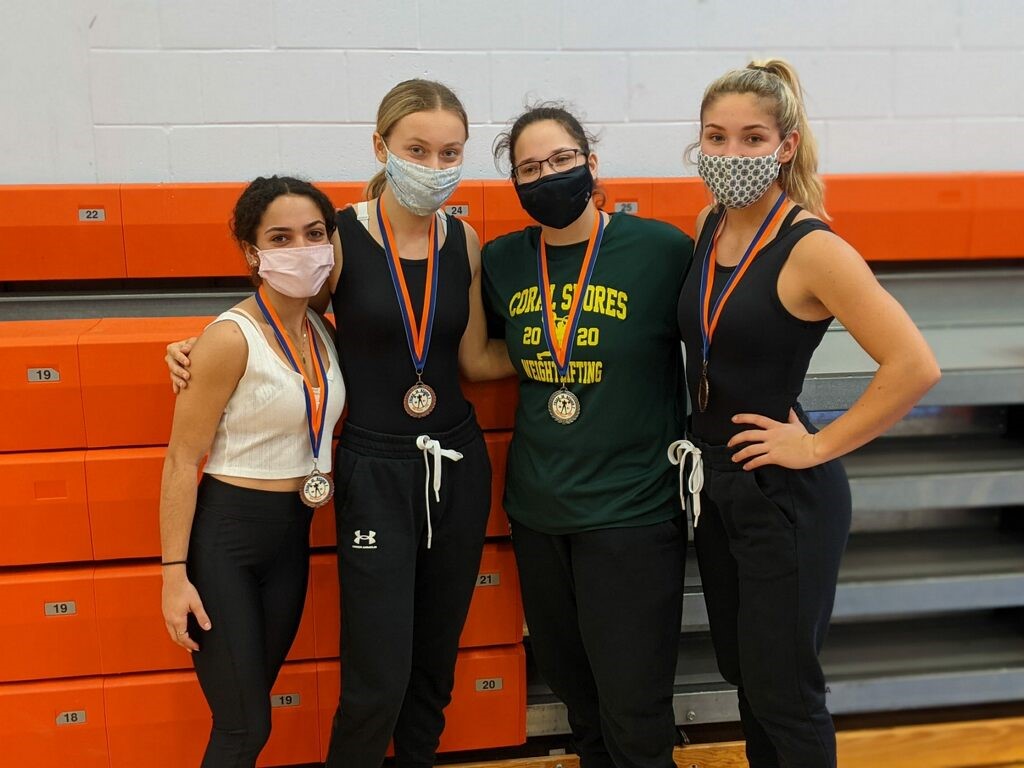 Coral Shores' Ladies Weightlifting Team, under the direction of Coach Erin Hamilton, is sending –a county best– four contestants to the FHSAA State Finals next weekend in Live Oak.  Moving on from regional competition will be junior, Annavera Peixoto, and three senior teammates, Alison Woltanski, Kaylee Stoky, and Amber Stevens.
Peixoto, who competes in the lightest lifting division, finished third in her grouping with a "bench press" of 90 lbs and a "clean-and-jerk" of 90 lbs.   Woltanski, competing a division up advanced with a "bench" of 95 lbs and "clean-and-jerk" of 125 lbs.   Stokey, lifting three classes higher had a "bench" of 120 and a "clean-and-jerk" of 155.  Last to lift for the Lady Canes was Stevens who distinguished herself with a "bench" of 165 lbs followed by a 155 lbs, "clean-and-jerk" to finish second in her division. "I was so proud of our girls.  They really rose to the occasion," offered Hamilton.
"When I joined weightlifting last year it was a new sport," said Woltanski. "I thought I wouldn't be good at, much less good enough to make it to states. Seeing all the girls on our team and other teams who all look so different and are all so strong is amazing.  There really isn't a 'one size fits all' approach to the sport and that's why I love it so much. Making it to states along with my co-captain, Amber Stevens, and teammates –after vigorously refreshing the FHSAA webpage for hours– was the best feeling, and I'm excited to have one last meet with my girls."  Fellow team captain Stevens added, "There was a ton of improvement from the whole team and lots of old PRs broken!"
Coach Erin King founded the program in the 2018-19 school year.  Hamilton assumed the head coach position last year. This year's team had a record 16 participants.  Remarkably, 13 of those lifters advanced to regional competition.  That group included: Peixoto, Samara Quintana, Diana Diaz, Woltanski, Makena Woolet-Stockton, Astrid Rivas, Stoky, Madeline Langley, Emily Brown, Angelina Bello, Brooke Barrow, Stevens, and Juniper Crumb.
"The girls had an amazing season. I am so proud of all their hard work," added Hamilton.  "They dedicated much time and effort to gaining strength and lifting heavier weights. The changes I saw from last season to this season were remarkable!"  She added, "I also want to thank my two amazing assistant coaches, Jake Hurst and Debbie Lindsey. Their help was imperative this year with such a large group of girls."
"In talking to coaches from other programs, they are amazed that our third year program has experienced so much success," offered Coral Shores Athletic Director, Rich Russell.  "I can't say enough about Coach Hamilton's efforts.  She's unrivaled as a trainer.  Beyond that, she and her staff have done an amazing job of motivating our young ladies while developing a model for 'team spirit.'  Most importantly, in my eyes, our ladies have further developed some essential 'life-skills.'  At the end of the day, developing a healthier self-esteem, a better work-ethic, goal-orientation, and coping skills should be the objective of every one of our programs. Those qualities are enduring; they will serve our ladies throughout their entire life."