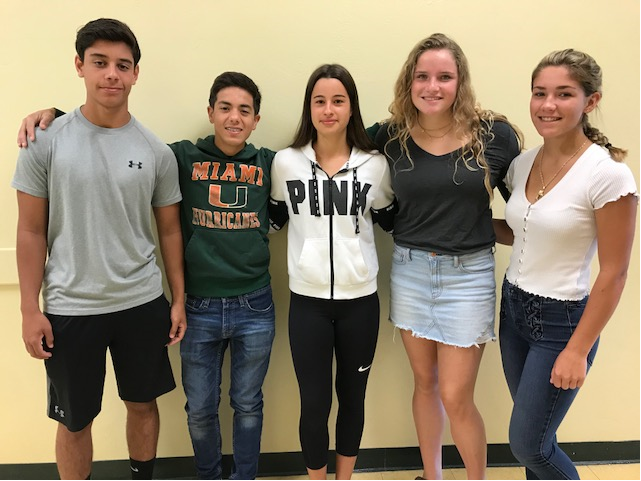 Pictured above are five Coral Shores Athletes who have gone well over beyond their Upper Keys Foundation community service obligations.  Each has spent more than fifty community service hours practicing twice a week February through May, playing games in Doral and Key Largo on Saturdays and then participating with the Special Olympic Athletes playing soccer at the States Summer Special Olympics in Orlando May 16-May 19.
From left to right:  Jason Castillo, Junior who missed his Junior Prom to play and coach in the games, he's Captain of the Men's Varsity Basketball Team; Peter Reinoso, Freshman who plays baseball; Lucia Rodriguez, Sophomore, Captain of the Women's Varsity Basketball Team; Riley Dobson, Sophomore, Captain of the Women's Varsity Basketball Team as well as a player on the Varsity Volleyball Team and threw shot put in Districts for Track; Kaylee Stokey, Sophomore, Captain of the Women's Lacrosse Team and President of the Unified Club at the High School.
Each of the Coral Shores Athletic partners wrote about their experiences:
Jason said, "It doesn't matter if we win or lose because everyone has fun."

Peter recorded, "Special Olympics was a very fun and good experience for everyone involved.  I look forward to it in the future and hope more people get involved."

Lucia wrote, "Special Olympics was such a great experience for us and an amazing opportunity for all the special education kids who don't get the chance to play sports at our school."

Riley said, "I love Special Olympics!  It's such an amazing opportunity and I love all of the kids I do it with."

Kaylee confessed, "The kids made Special Olympics soccer fun even if I wasn't good at it."
The team looks forward to expanding into flag football in the fall and continuing with soccer in the spring.  The athletes earned well over fifty community service hours (each) from February to May with practices twice a week and several games on Saturdays with the big States Tournament in May but their greatest reward is gaining friendships with all of the participants and helping to spread the love of teamwork, positivity and comradery through sports.
The Special Olympics'' teams are coached by Peter Reinoso, a Monroe County Police Officer.  Coach Reinoso consistently rearranges his work schedule so he's able to coach every Monday and Wednesday 3-4:30 and coach for the games on Saturdays.  He always had a smile on his face and encouraging words for all of the players and partners.  Our community is thankful to have him representing Coral Shores High School.
"It was a great 2019 Coral Shores Special Olympics Soccer season!" said Reinoso.  " We had a great group of teammates who handled their school academic responsibilities, continued practices and games in other sports that included basketball, track, lacrosse, and baseball.  In addition to keeping up with the other sports and academics some of our teammates also attended Coral Shores student club meetings and some also had time to keep up with after school musical instrument lessons."
He added, "They all attended practice regularly from February to May and worked hard every day in the heat even when they were tired and wanted to call it a day.  Their hard work really showed in our scrimmage against the Key West College team at Key Largo School, coming up short 9-8 in a great game for both teams that should be a regular annual match up for both team for the foreseeable future! In the Florida State Summer Games Coral Shores earned 4th place in our bracket!  It was an honor to make it to the State games after qualifying in the Dade County area games one-month prior which matched Coral Shores with other regional High Schools in South Florida."
Reinoso went on to detail, "Our team was offensively led by Julian Bidet, Lucia Rodriguez, and Riley Dobson.  Our defensive juggernauts were greatly represented by Will Mutz, Kaylee Stokey, Peter Reinoso, and Jason Castillo. Our Iron man/woman titles go to Samantha Bailor, Julian Bidet, Lucia Rodriguez, and Riley Dobson.  Sam and Julian both played goalies, defense effectively, and lighting offense. Lucia and Riley were thunder and lightning with an unmatched level of talent while keeping the rest of the team involved and being on the field coaches.  Jason Castillo gets the assistant coach recognition for assisting me on the sidelines when not on the field.  His assistance was essential in making sure I had all players on the field every half while I managed the play on the field."
"I can't tell you how proud we are of these five student-athletes" offered Coral Shores Athletic Director, Rich Russell.  "All of our players –working through the Upper Keys Foundation– are involved in community service but these guys have taken it to a whole different level.  That is ultimately the goal of the UKF.  We want our young people to seek out opportunities to help; we want them to experience all the blessings associated with making a difference in other peoples' lives."