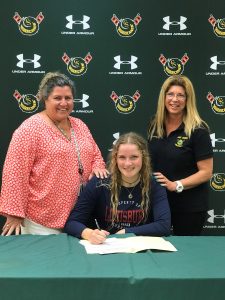 Riley Dobson, a four-year standout in the Coral Shores volleyball program, has signed her letter-of-intent scholarship to play at Louisburg College (North Carolina).  Dobson, who was named Monroe County "Player of the Year in Volleyball" back in December, chose Louisburg from a number of colleges vying for her services.  "It was a tough decision, but I ultimately felt best about the direction their (Louisburg's) program is going and I also fell in love with the area," said Dobson.
Coincidentally, Louisburg's nickname is also the "Hurricanes." Louisburg Head Volleyball Coach Haley Price released a statement saying, "We are very excited about adding Riley Dobson to our Hurricane roster.  She is an explosive player who we think can assist us right away."
Dobson has been a three-sport standout since entering Coral Shores as a 9th grader.  She was a force on this basketball team which finished first in their district for regular season play.  She led the team in blocks and rebounds and finished 7th in the state in rebounding average.  Last week, she set a new school standard in track with a discus throw of 88 feet, 2 inches.
"I have watched Riley play sports since she was 4 years old" said Hurricane Head Volleyball Coach, Kathy Ets-Hokin.  "She was always a natural athlete, but she has emerged into an elite athlete at Coral Shores. She is a leader who is committed, competitive, and preserves until she has reached her goal for that day."
Ets-Hokin continued, "Riley drew a large crowd at every game. I am so proud of her: Player of the County, All Star, All State, and my captain who I will miss beyond words. Riley is so ready to move to the next level of play. She thrives on higher-level drills, games, teams and other things she knows will make you a better player. Riley loves to crush the ball with all her power. That is what she lives for, "the kill!" She is known as "the beast" in our county for a reason. I wish her the best in her new school with her new team. I know Riley will be a great asset to Louisburg.
"I am so happy that Riley can continue playing her favorite sport in college" commented Tracy Dobson, Riley's mom. "And I'm happy that she gets to play at Louisburg College in North Carolina and explore a new state and town and have new experiences with a change of seasons."  She added, "She has always been able to pick up a ball and know exactly what to do with it.  And being active and remaining upbeat and positive is just who she is.  She loves to make herself and others laugh; she is just so much fun to be around and I'm so proud of her for brightening my life and I look forward to watching her grow and brighten others' lives in her path.
Basketball coach Pat Meyers adds, "Riley is an incredible athlete and truly is a leader.  She has something you can't teach and that is heart and desire.  Riley will never give up on a play and always plays the game like it should be played."
Coral Shores Athletic Director Rich Russell added, "Riley is one of the best all-around athletes we've ever had at Coral Shores; this distinction ALL athletes, male and female.  She's elite!   Beyond that, she's just a treat to have in our programs and at our school.  She brings an infectious upbeat approach with all her involvements and has a 'servant's heart' when it comes to helping others.  To know Riley is to love Riley.  She has been and will continue to be a great source of pride for her family, Coral Shores, and all of the Upper Keys."