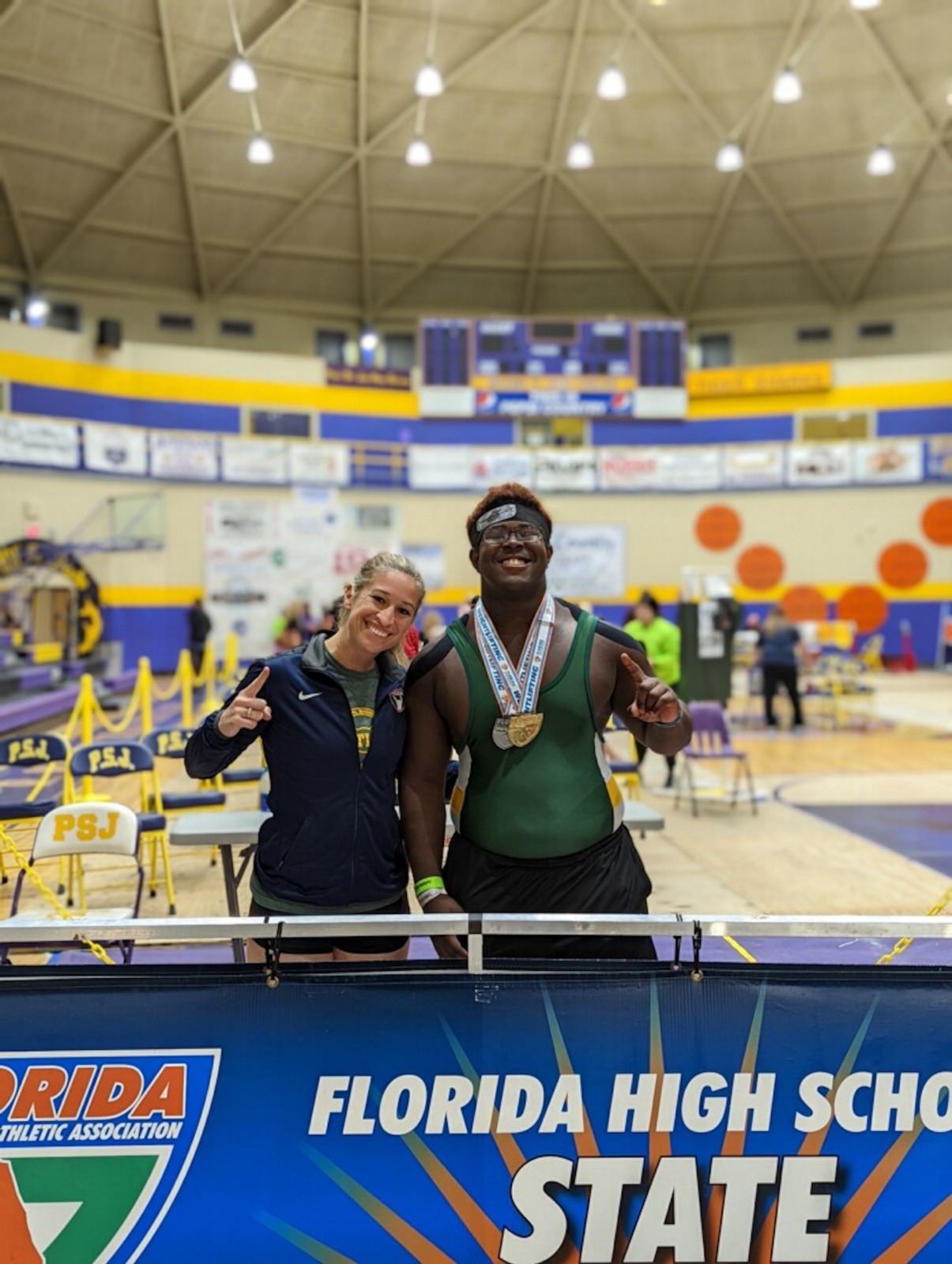 There's a state champion roaming the halls of Coral Shores High School.
His name? Xayver Arrington. He's a 5-foot 10-inch junior and a member of the varsity boy's weightlifting team and the track and field squad this season.
Last weekend, Arrington competed at the 2022 state championships for weightlifting at Port St. Joe High School. He competed in the Class 1A snatch, which sees competitors lifting a barbell from the floor to arm's length overhead in a single, continuous, explosive movement. Lifting in the unlimited division, his first successful snatch was at 225 pounds.
"It was a comfortable weight for him," said coach Erin Hamilton.
His second snatch? A whopping 235 pounds. It was enough to beat out second-place Brendan Black of The Bolles School.
"I just told him, 'Xay, you are one, when push comes to shove and it's time to make it happen, you make it happen.' He puts everything out of his head and knows what he needs to do and just does it. It just comes second nature for him."
Arrington said Hamilton was adamant on working on the little things, as "small details make the most difference and keeping calm." Arrington said becoming a state champion is a feeling like no other. He also placed sixth in the traditional at states.
"It gives me something to defend going into next year, which is awesome because I love competition," he said.
Hamilton said the team went into the weekend prepared and knowing that Xay wasn't only a contender, but that it was potentially his to lose.
"Every meet is its own day. It can basically be won or lost in just one lift," she said. "The other competitor had to hit 230 to qualify. His third lift he cleared it. Xay had his second lift at 235 and it was basically perfect. It was the best lift he's done.
"He finished and I never celebrate until I see what the judges say because you never know what they see," Hamilton continued. "When he got those three white lights, I started screaming. He just fell to his knees. We were just so excited."
Arrington is the first state champion in the Hurricanes weight lifting program, which launched four years ago.
Hamilton said she's particularly proud of the 14 weightlifters that made up the varsity boy's program this year. Thirteen of them competed at districts. The team won district for snatch and traditional, which consists of bench press and clean-and-jerk. The team took fourth in the traditional during regionals.
"This group is just so hardworking. They put in the time and effort," she said. "It was such a focused group."
Joining Arrington at states was senior Orlando Pera. He competed in snatch in the 154-weight class. He placed 10th.
"That was another huge accomplishment for him," Hamilton said. "Top 10 in the state is wonderful."
With Arrington's success, Hamilton said she hopes the boys weightlifting grows in the years to come. She said she knows many male athletes out there that could win champions. With many weightlifters participating in other sports, Hamilton said the program allows them to increase their overall strength, speed and other abilities.
"Any kind of these Olympic movements we've been doing translate into athleticism on and off the field and court," she said.